Elite Commercial REIT is a UK focused commercial REIT, with 97 office properties across UK.
Elite Commercial REIT's Portfolio
Out of the 97 properties, 99% are freehold except for one, which has its lease expiring on 19th May 2255, which makes it virtually freehold as well. It has a strong occupancy rate of 100% and I'll be explaining why the occupancy is strong in the next section.
1. More Than 99% of Its Portfolio is Leased To The UK Government
Over 99% of its assets are actually leased to the UK government. The assets are primarily leased to the Department for Work and Pensions (DWP). This means that the REIT will have a low chance of tenants defaulting, since their largest tenant is the UK government.
These properties are also leased out at a long Weighted Average Lease Expiry (WALE) of 8.6 years, on triple net leases.
What Are Triple Net leases?
In a triple net lease, tenants take on all operating costs of property including maintenance cost, property-related taxes and insurance.
Triple net leases are usually more favorable to landlords since they pass on all operating costs to the tenants.
2. Manager's Fee Structure
I personally like this fee structure for the manager. The performance fee is only paid if there is an increase in DPU as compared to the prior financial year. This actually encourages the manager to make DPU accretive acquisitions rather than just acquiring and selling off assets. This is great for investors, and especially dividend growth investors since the manager is incentivised to grow the REIT's DPU year on year.
It is also good to note that the manager's fees are paid in units, which gives them more skin in the game. Ultimately, the entire fee structure incentivises the manager to help grow investors' returns rather than doing random acquisitions that negatively impact the investors.
3. Strong Future Growth Potential
Elite Commercial REIT can grow via 2 methods.
Firstly, they can do Asset Enhancement Initiatives ("AEI"), to help improve the quality of their assets.
Secondly, they can acquire more assets ! They have a Right of First Refusal (ROFR) to over 62 commercial properties located in the UK. All of which are also primarily long-term leased to the UK Government.
I like the future growth potential Elite Commercial REIT has! Especially the fact that they have ROFR to over 62 commercial properties from its sponsor! It won't come to a stage whereby the REIT has no future assets to acquire.
Risks
Well the most obvious risk is that most of the REIT's income comes from 1 tenant. Though I don't believe that the UK Government will default or not pay rent, but there is a chance that after the lease expires, the UK Government decides to move out and does not renew the lease.
This could cause huge stress to the REIT if the UK Government decides not to renew its lease. The REIT will then need to hurry and find new tenants in order to maintain a stable flow of income. Other than that, I don't see any huge risks or issues in the near future.
The REIT's aggregate leverage stood at 33.6%. This means if they are going to do any acquisition in the near future, they might do it via full debt, rather than a mixture of debt and equity, since they have so much debt headroom.
Should You Invest in Elite Commercial REIT?
Lets run it through a checklist !
I want :
A relatively stable and safe REIT
Stable growth in DPU
REITs with an overseas exposure
If you check yes to at least 1 of the above, I'd strongly recommend you to invest in Elite Commercial REIT ! Do note the risks in investing into this REIT and make sure you size your positions carefully so you're not overexposed to one REIT.
For more information, you can check out the REIT's prospectus here !
As always, you can take a look at my portfolio updates to see my current positions! Also, use my referral code for an extended 3 months of premium access to StocksCafe! P.S. I'm running a telegram chat group for you guys to share and discuss investment-related topics so come on in! I'll be there too! You can join the chat here: https://t.me/joinchat/D4iHeEVapnGC1lWcFEupVw
Are you new to the stock market and don't know what you should do to avoid losing half your portfolio through bad picks? Or perhaps you are an experienced investor/trader looking for fantastic opportunities and picks in the market that you might have missed out on?
If so, look no further because I am running a Premium Subscription that offers services such as:
Access to both my Singapore and US Tech Watchlist with Preferred Entry Prices
Telegram Group Invitation Where I Share Market Updates and My Personal Views
Monthly Tradable Opportunities with Trade Setups
On-Demand In-Depth Fundamental and Technical Analysis on Any Stock of Your Choosing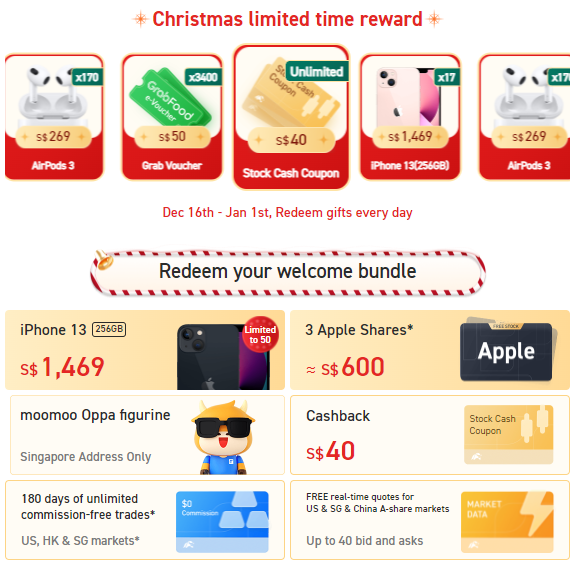 For the ongoing promotional period (Nov 30th – Dec 31st), when you deposit (First Deposit) SGD 2,700 successfully into your account, you will be rewarded 1 Apple (AAPL) share worth around SGD 220 as well as an SGD40 Stock Cash Coupon Bundle. Stand a chance to win a brand new iPhone 13 (256GB ,~S$ 1,469), Airpods 3, $50 Grab vouchers as well as $40 Stock Cash Coupons during the Christmas limited time reward promotion that is ongoing between Dec 16th – Jan 1st.
If you have yet to sign up for a FUTU SG securities account with moomoo powered by FUTU you can use my referral link here. For opening an account, you will be given 180 days of unlimited commission-free trades across the US, HK, and SG markets (do not apply for Stock Options and Futures). You will also be given free real-time Level 2 US Market Data, Level 1 SG Market Data, and now Level 1 for China A shares too!
Read Also: moomoo Trading App Review: Everything You Need To Know in 2021