VICOM (SGX: WJP) has had an exciting year so far with the 4:1 stock split and with Singapore going into circuit breaker earlier this year. This is the first reported results of VICOM after their stock split so let's take a quick look at the 3 key takeaways from the 1H results of VICOM.
1. Drop in Revenue Impacts Net Profit
| Year on Year Difference | 1st Half 2020 | 1st Half 2019 |
| --- | --- | --- |
| Revenue | S$39.84 million (-22.0%) | S$51.103 million |
| Total Operating Costs | S$28.396 million (-17.2%) | S$34.286 million |
| Net Profit | S$9.901 million (-29.9%) | S$14.133 million |
Even though VICOM's total operating expenses went down by 17.2%, the net profit still fell by 29.9% due to the weaker revenue this year. If we took out the COVID-19 government reliefs, the net profit would have fell by 56.9% instead.
The lower revenue was due to the lower business volumes affected by the impact of COVID-19. VICOM will continue to see a slowdown in revenue from private car inspections as cars due for inspection between 7th April 2020 to 21st June 2020 will be allowed to deffer their inspection for 6 months.
2. Healthy Balance Sheet
| | As at 30 June 2020 |
| --- | --- |
| Current Ratio | 2.46x |
| Quick Ratio | 2.12x |
| Net Operating Cash Flow | S$16.318 million |
One of the key reasons why VICOM is well loved by investors is their strong balance sheet. This 1H 2020 is no different as they maintained a high current ratio of 2.46x, higher than the minimum 1x. They also maintained a high quick ratio of 2.12x, higher than the minimum of 1x.
They also managed to have a positive net operating cash flow for the half. Though in the coming 2H2020, they are expected to fund the cost for additions and alterations to the new building at Bukit Batok as well as for the relocation of the existing machinery and equipment from the current location. The estimated cost of these activities come up to S$25 million.
3. Group Outlook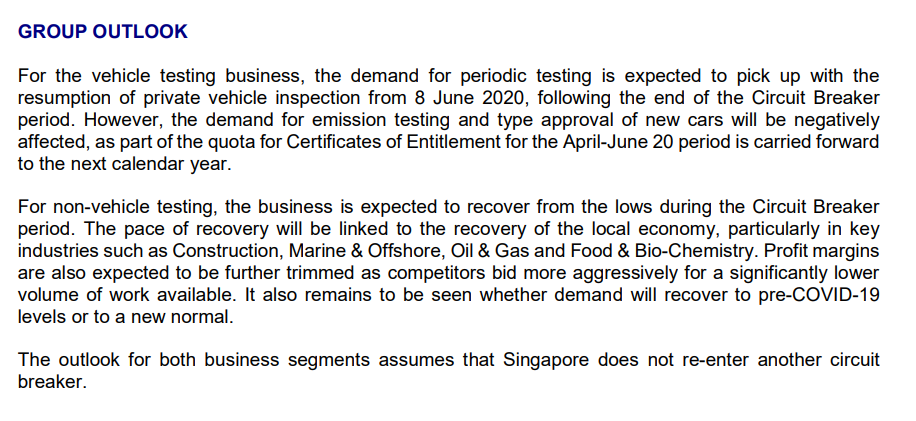 No Dividends Declared For The Half
VICOM has also decided to declare no interim dividend in order to conserve cash during this period of COVID-19 uncertainties. I believe that VICOM has the ability to pay dividends but is going to play on the safe side and retain the cash in case of emergencies. Not forgetting the fact that they still have a $25 million expenditure coming up in the 2nd half of the year.
Final Thoughts
Overall, the 1H results of VICOM were some what in line with expectations. They faced a few setbacks such as the halting of operations during the Circuit Breaker as well as the delay in inspection for cars with new CoEs.
Nonetheless, I expect VICOM to bounce back bigger and better as we recover to pre-COVID levels. As their group outlook mentioned, the bigger concern is the non-vehicle testing as the recovery is linked to the recovery of the local economy as well as certain key industries. Profit margins are expected to fall as competitors have been bidding more aggressively. They are also unsure if demand can recover back to pre-COVID-19 levels.
I recently took up a small position in VICOM @ $2.12. I owned VICOM last year prior to the split and decided to sell it for a small profit during the market crash. I like VICOM for its monopoly-like business. The fact that they own a large market share for vehicle inspection, I am pretty optimistic with the business's recovery post-COVID-19.