With most of the world being in lock-down, everyone will need to stay home. Most shops are closed so we will need to resort to ordering things online, be it food or daily necessities. With this strong demand for e-commerce, what can you invest in to take advantage of this?
EC World REIT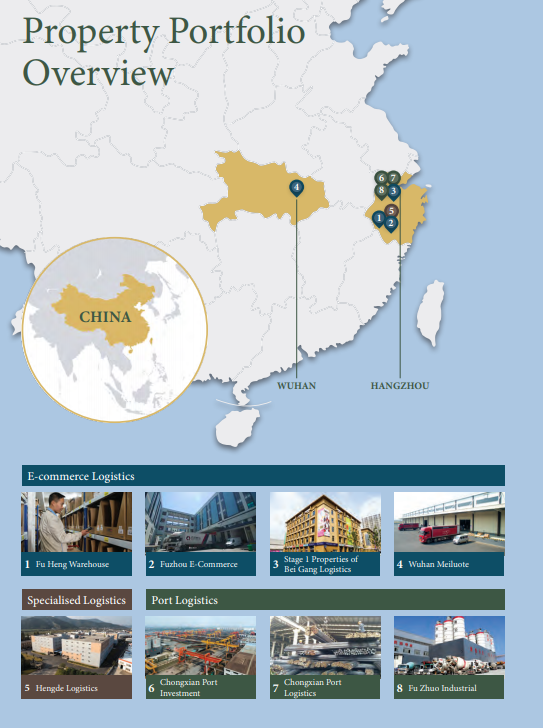 EC World REIT is a China-focused REIT, primarily investing in real estate properties which are being used for e-commerce, supply-chain management and logistics purposes. They currently own 8 properties located predominantly in the largest e-commerce clusters like Yangtze River Delta, Hangzhou and Wuhan, China. Seven properties are located in Hangzhou, and one in Wuhan.
I have actually done a stock analysis prior to this so you can check it out here !
1. Strong Demand for E-Commerce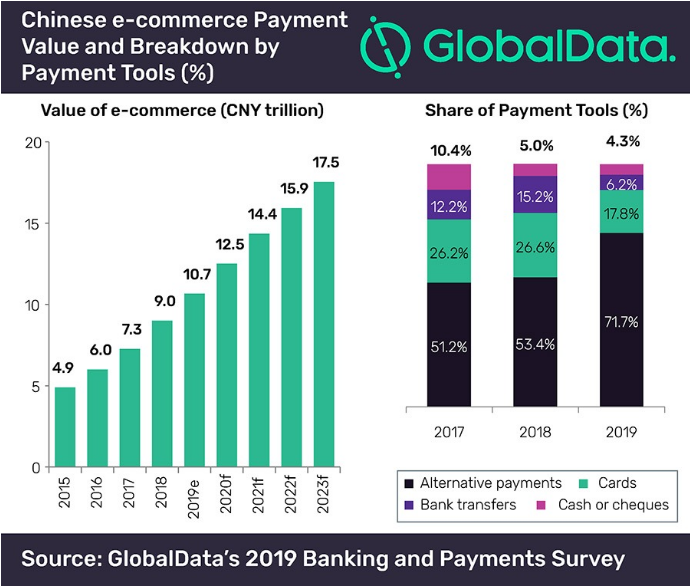 EC World REIT will be one of the beneficiaries when there is an increase in demand for E-Commerce. With an increase demand for E-Commerce, there will be more people putting their goods in warehouses, ready to be shipped out when needed.
In 2019, China's E-Commerce market alone had a staggering CNY10.7 trillion (US$1.5 trillion) in sales. Not only that, they are projected to grow to CNY17.5 trillion (US$2.6 trillion) in 2023.
2. Gearing Limit Raised to 50%
Previously, one of the big risks with EC World REIT was its high gearing of 38.7% (FY2019 AR). Now that the gearing limit for S-REITs have been raised to 50% from 45% previously, there is a bigger debt headroom if they want to do acquisitions in the near future.
There is a catch though, that the REIT's Interest Cover Ratio must be above 2.5x if they wish to gear up to 50%. For EC World REIT, their Interest Cover Ratio stood at 3.7x, which is well above the requirement.
Should You Invest in EC World REIT?
Lets run it through a checklist !
I want :
Exposure to the E-Commerce Industry
Stable DPU
REITs with an overseas exposure
If you check yes to at least 1 of the above, I'd strongly recommend you to invest in EC World REIT ! Do note the risks in investing into this REIT and make sure you size your positions carefully so you're not overexposed to one REIT.
For more information, you can check out the REIT's latest AR for FY2019 here !
As always, you can take a look at my portfolio updates to see my current positions! Also, use my referral code for an extended 3 months of premium access to StocksCafe! P.S. I'm running a telegram chat group for you guys to share and discuss investment-related topics so come on in! I'll be there too! You can join the chat here: https://t.me/joinchat/D4iHeEVapnGC1lWcFEupVw
Are you new to the stock market and don't know what you should do to avoid losing half your portfolio through bad picks? Or perhaps you are an experienced investor/trader looking for fantastic opportunities and picks in the market that you might have missed out on?
If so, look no further because I am running a Premium Subscription that offers services such as:
Access to both my Singapore and US Tech Watchlist with Preferred Entry Prices
Telegram Group Invitation Where I Share Market Updates and My Personal Views
Monthly Tradable Opportunities with Trade Setups
On-Demand In-Depth Fundamental and Technical Analysis on Any Stock of Your Choosing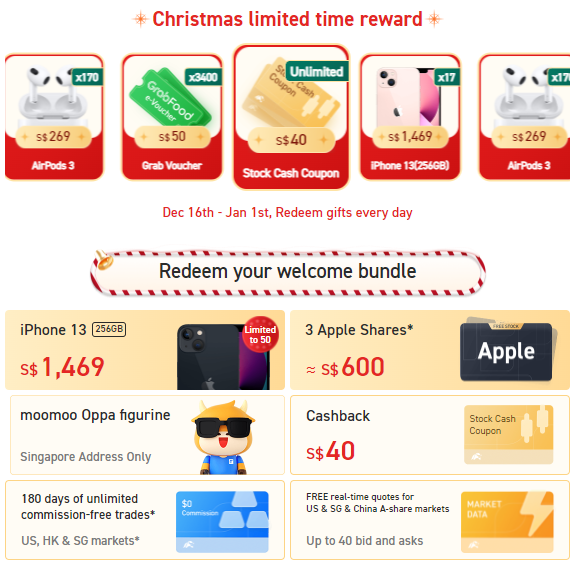 For the ongoing promotional period (Nov 30th – Dec 31st), when you deposit (First Deposit) SGD 2,700 successfully into your account, you will be rewarded 1 Apple (AAPL) share worth around SGD 220 as well as an SGD40 Stock Cash Coupon Bundle. Stand a chance to win a brand new iPhone 13 (256GB ,~S$ 1,469), Airpods 3, $50 Grab vouchers as well as $40 Stock Cash Coupons during the Christmas limited time reward promotion that is ongoing between Dec 16th – Jan 1st.
If you have yet to sign up for a FUTU SG securities account with moomoo powered by FUTU you can use my referral link here. For opening an account, you will be given 180 days of unlimited commission-free trades across the US, HK, and SG markets (do not apply for Stock Options and Futures). You will also be given free real-time Level 2 US Market Data, Level 1 SG Market Data, and now Level 1 for China A shares too!
Read Also: moomoo Trading App Review: Everything You Need To Know in 2021