With markets going on a downward trend, I tend to look for strong growth companies with healthy cash flows and net cash positions with will help them tide through these tough times without incurring debt.
After some searching, I managed to find a company that has a strong cash flow with a net cash position. It even pays you a nice 7% yield while you wait for the share price to appreciate.
Silverlake Axis Ltd (SGX:5CP)
Business Model
Silverlake Axis Ltd (SAL) provides technology and related services to the Banking, Insurance, Payments, Retail and Logistics industries. Founded in 1989, SAL has built an impeccable track record of successful core banking implementations.
Their core business involves providing the backend software to banks in South East Asia (primarily Malaysia), and providing ongoing maintenance services to the same banks. In fact, over 40% of the top 20 largest banks in South-East Asia run on Silverlake Axis' core banking solutions, which is very impressive.
They're listed on the SGX, but their headquarters is in Malaysia, and their earnings are reported in Malaysian Ringgit.
Financials
Fantastic growth in terms of their revenue and overall profit for the year, increasing by 25.66% and 83.15% respectively. EPS increased as well by 82.12%. Now let's take a look at their operating cash flow and free cash flow !
So looking at their operating cash flow looks, it increased by 54.46% ! Now let's calculate Free Cash Flow. If you're not sure how, refer to this article I wrote previously where I shared how to calculate Free Cash Flow.
After some calculations, their CapEx stands at (5,532,226). So, now if you deduct the CapEx from the operating cash flows, you get ~300mil. RM. This shows that the company's financial health is very stable.
Financial Growth History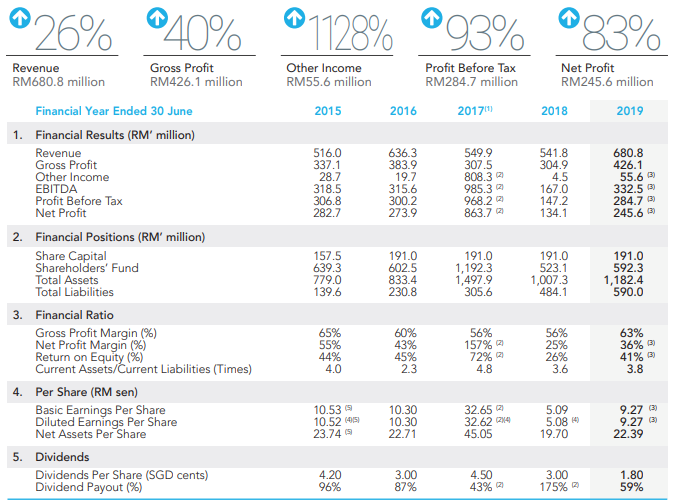 Looking from 2015-2018, the company seems to be going on a downward trend. Only in 2019, things started to pick up slightly, though we can't be certain if this can be sustained.
As you can see there is a huge spike in 2017. The reason is stated below.
For those who are lazy to scan through that whole chunk, here is a TLDR version
In FY2017, they made a net gain of RM426.2 million on disposal of shares in an associate, Global InfoTech Co. Ltd. ("GIT")
The gains were reflected in the other income, earnings, net profit margin and return on equity ratios
In FY2018, the group incurred a net loss of RM5.9 million from the sales of GIT shares
If you excluded the gains and losses, FY2017's net profit should have been RM154.9 million and FY2018's net profit should have been, RM140 million
Also there were special dividends handed out during both years, 2.3cents in FY2017 and 1.8cents in FY2018
This Is Not A Tech Stock
Yes they do I.T. solutions and such, but they are not gonna grow 100x like how you would assume a tech stock will grow. This isn't the next Apple or Tesla.
Personally, from the declining financials, I can't confidently call this a growth stock. Currently, I'd categorize it more like a Cigar-Butt Stock than your typical growth stock.
Of course, if their financials improve or at least stabilize, I might come back and take another look at it.
Buy or No Buy?
Personally I've taken a small position @ 0.245. Why? Lets take a look at a little check list !
Current Ratio > 2 ✅
Healthy FCF ✅
Pays a good and sustainable dividend ✅
P/E Ratio < 9 ✅
I can't find a reason not to own this stock ! Yes, it's not your typical dividend growth stock, or growth stock, but hey, it checked everything off my check list.
Potential Risks
Well the most obvious risk is the unstable financials. Other than that, there is also Forex risks since the company's earnings are reported in MYR.
Closing Thoughts
There is a definite risk buying into silverlake right now, but when weighing the risks vs rewards, I'm pretty comfortable with it. The stock is almost 50% down from its recent highs.
Assuming it returns to that level in a year's time, you will be sitting with a 100% capital gain on top of a 7% dividend gain. Position sizing is very important so I only allocated a small % for silverlake, in case anything goes wrong or if the stock takes a very long time to grow back to previous highs.
As always, you can take a look at my portfolio updates to see my current positions! Also, use my referral code for an extended 3 months of premium access to StocksCafe! P.S. I'm running a telegram chat group for you guys to share and discuss investment-related topics so come on in! I'll be there too! You can join the chat here: https://t.me/joinchat/D4iHeEVapnGC1lWcFEupVw
Are you new to the stock market and don't know what you should do to avoid losing half your portfolio through bad picks? Or perhaps you are an experienced investor/trader looking for fantastic opportunities and picks in the market that you might have missed out on?
If so, look no further because I am running a Premium Subscription that offers services such as:
Access to both my Singapore and US Tech Watchlist with Preferred Entry Prices
Telegram Group Invitation Where I Share Market Updates and My Personal Views
Monthly Tradable Opportunities with Trade Setups
On-Demand In-Depth Fundamental and Technical Analysis on Any Stock of Your Choosing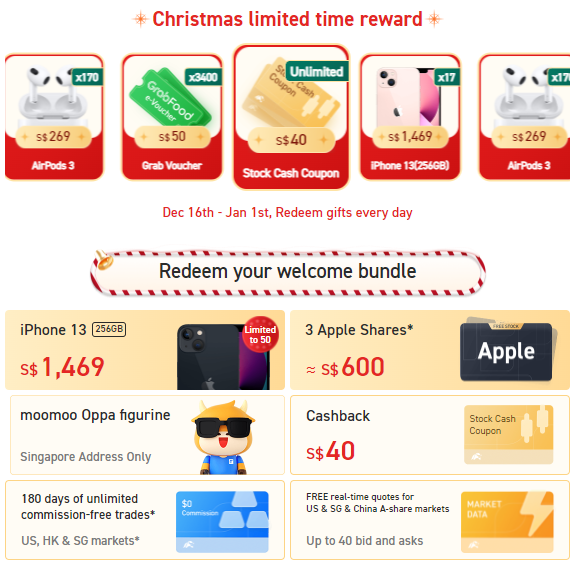 For the ongoing promotional period (Nov 30th – Dec 31st), when you deposit (First Deposit) SGD 2,700 successfully into your account, you will be rewarded 1 Apple (AAPL) share worth around SGD 220 as well as an SGD40 Stock Cash Coupon Bundle. Stand a chance to win a brand new iPhone 13 (256GB ,~S$ 1,469), Airpods 3, $50 Grab vouchers as well as $40 Stock Cash Coupons during the Christmas limited time reward promotion that is ongoing between Dec 16th – Jan 1st.
If you have yet to sign up for a FUTU SG securities account with moomoo powered by FUTU you can use my referral link here. For opening an account, you will be given 180 days of unlimited commission-free trades across the US, HK, and SG markets (do not apply for Stock Options and Futures). You will also be given free real-time Level 2 US Market Data, Level 1 SG Market Data, and now Level 1 for China A shares too!
Read Also: moomoo Trading App Review: Everything You Need To Know in 2021