As we enter the new year, more and more people have hopped onto the investment bandwagon. This is a timely reminder to all new investors of the importance of choosing the right broker, based on your needs.

POEMS has launched its new Cash Plus account last year, which offers investors lower costs of trading with no minimum commissions. Guess what, the deal just got sweeter! In this article, I'll be sharing with you the Cash Plus account as well as the POEMS platform.
Note : This is a sponsored post
What's POEMS?
Phillip's Online Electronic Mart System, or POEMS, is an online trading platform by PhillipCapital. POEMS offers various types of accounts and services to meet the needs of different investors. The broker has been around in Singapore for 45 years and has 15 branches island-wide where you can visit if you require a broker's help.
Cash Plus Account
The Cash Plus Account offers investors a much lower cost of trading. This is because its brokerage rates are based on the total assets you hold with POEMS. The more assets and funds you have with POEMS, the lower the rates you pay. This account offers some of the most competitive rates in Singapore with no minimum commission fees for share-trading in Singapore and eight other markets.
Fees and Charges
POEMS just launched a new Chinese New Year promotion. Your first three U.S. stock trades will be commission-free if the contract gross value of each trade is equal to or below US$2,000. This is definitely something new users can take advantage of. Do note that this promotion is only applicable to "BUY" transactions.
The Cash Plus account rates above are definitely competitive with other online/fintech brokers. No minimum commissions make it even more appealing to new investors with limited capital. Believe me, high commissions are the No. 1 killer to every new investor's investment gains! The lower your fees and costs, the more gains you get to pocket.
Product Offering
POEMS has one of the most extensive suites of offerings across the brokerages in Singapore. Below are some of the products and services it offers.
Its extensive offerings allow investors to invest in all types of financial instruments such as shares, warrants, ETFs, DLCs, CFDs, bonds, forex/futures contracts and money market funds.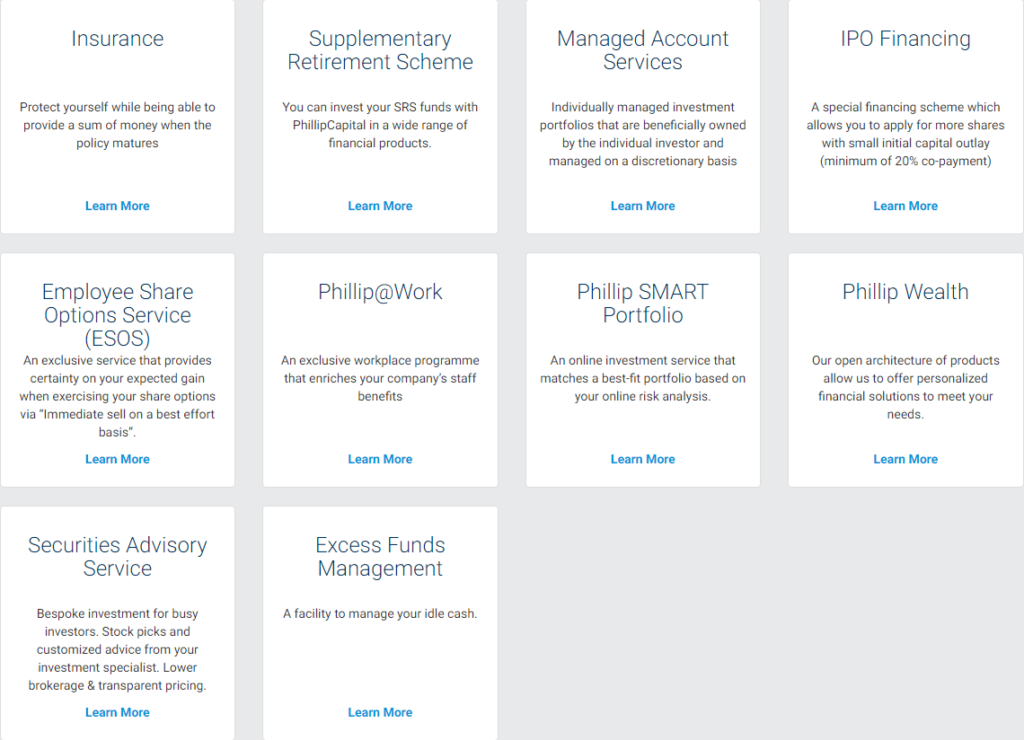 Other interesting products are insurance, SRS investments, the Phillip Smart Portfolio (Roboadvisor), and Excess Funds Management.
The depth of products at POEMS makes it a truly one-stop platform for all investment instruments and asset classes, providing untold convenience.
Securities Borrowing & Lending
Securities borrowing and lending (SBL) is a temporary loan of securities to investors. An investor may borrow because he or she is expecting the price of a stock to fall and intends to hold a short position for a longer duration. The lender of the stock receives a lending fee from the borrower.
SBL is an important market activity as it provides greater liquidity to markets, tighter spreads, better risk management, and possibly reduces the cost of capital.
I personally intend to start using SBL as it allows long-term investors like me to increase my yield on cost by receiving additional income from lending fees. There is also not much restriction as you still own the right to the securities you lend out. This means you can stop lending them or even sell your loaned securities at any time.
Multi-Currency Facilities
With POEMS, you can settle trades across 10 different currencies, namely SGD, USD, HKD, AUD, MYR, JPY, GBP, EUR, CNY, and CAD. This facilitates investors' trading in foreign markets. What's more, POEMS just launched live currency conversion, with real-time updates of foreign-exchange rates quoted by banks.
You can also check out their share financing promotion, applicable for brand new Margin accounts.
Excess Funds Management
If you have any idle cash lying around and you want to put it to work, POEMS has got you covered. With its Excess Funds Management facility, you can put your idle cash to good use and make it work harder and smarter for you.
You can start with a deposit as low as S$100/US$100. There are no sales charges or administrative fees. There is also no lock-in period, so you have full control and flexibility over your funds. This is a much better alternative than fixed deposits or other savings accounts. The cash will be invested in the Phillip Money Market Fund, which is the largest retail S$ money market fund in the market based on total net assets. The returns are pretty decent, with a 1-year rolling return of 0.3764% p.a. for S$ and 0.3806% p.a. for US$.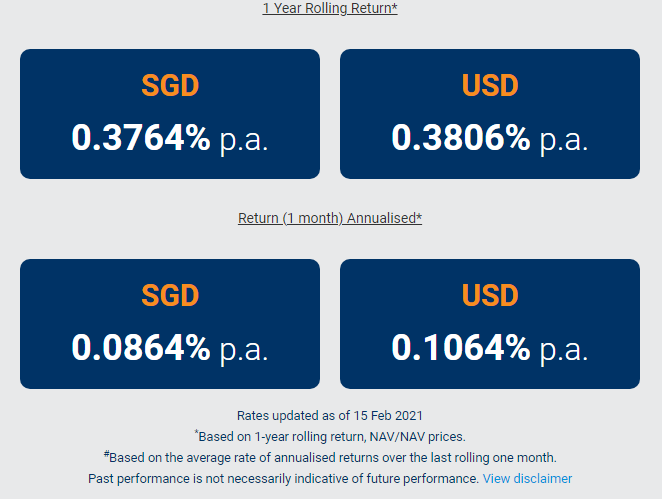 Other Benefits
Most custodian accounts charge account maintenance fees and foreign shares custody fees.
With the Cash Plus account, however, all such fees and charges can be waived off, depending on the tier of your investment and respective waiver conditions. There are also no hidden platform fees, so you don't have to worry about being caught off guard by additional fees each month.
POEMS is also offering complimentary live prices for U.S., Thailand, Malaysia and Indonesia markets when you open a Cash Plus account.
Sign Up Process
Signing up for POEMS Cash Plus is simple and straightforward. Just head over to POEMS website and select the Cash Plus account. You can choose the facilities you want to have access to. For me, I have chosen an account with all the available facilities because it is better to have them ready and on standby whenever you need them.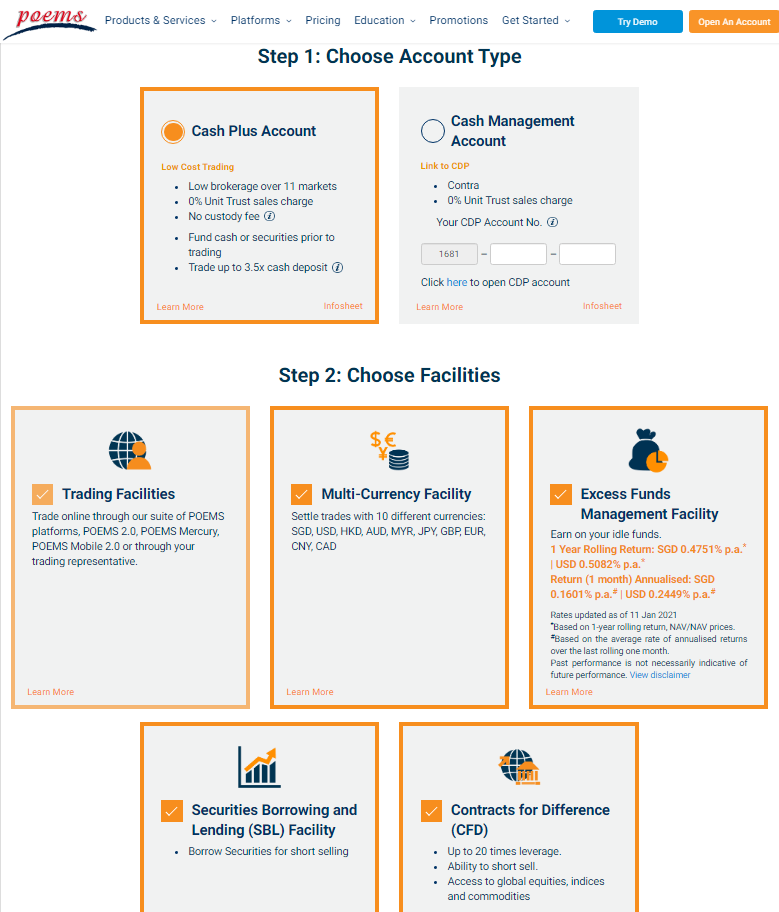 You can speed up your signing-up process by using your MyInfo account. This is also your SingPass account. I used this hassle-free method and my account was opened within minutes! I was able to log in right away.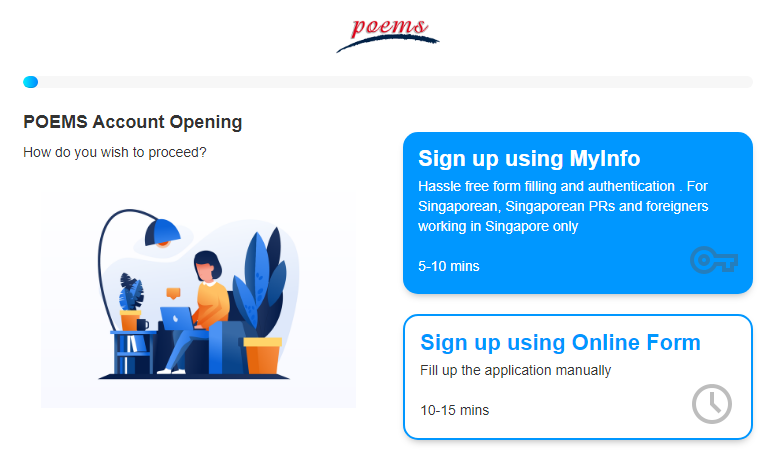 Your First Login
When you log in, you are given a quick tour of the platform.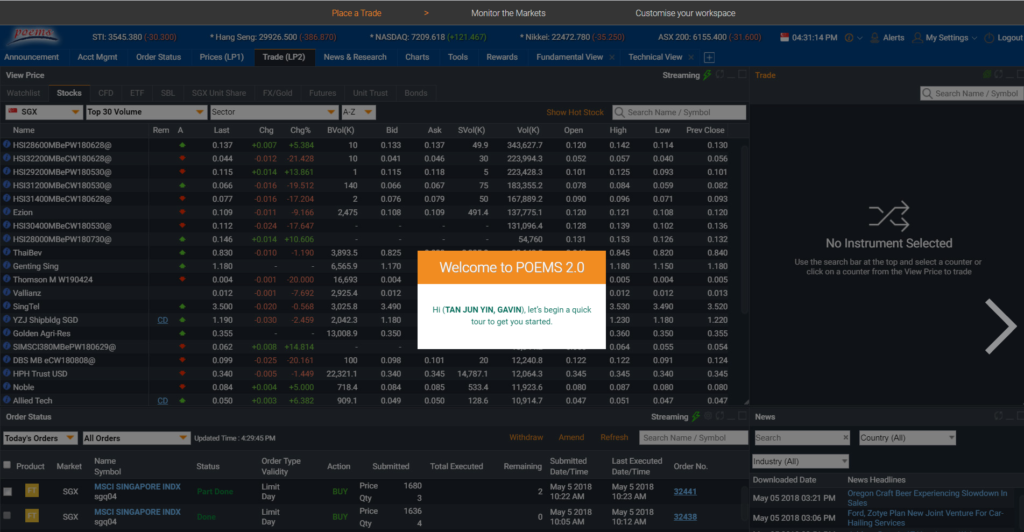 The tour starts with a quick guide on how to fund your account and how to find the right page.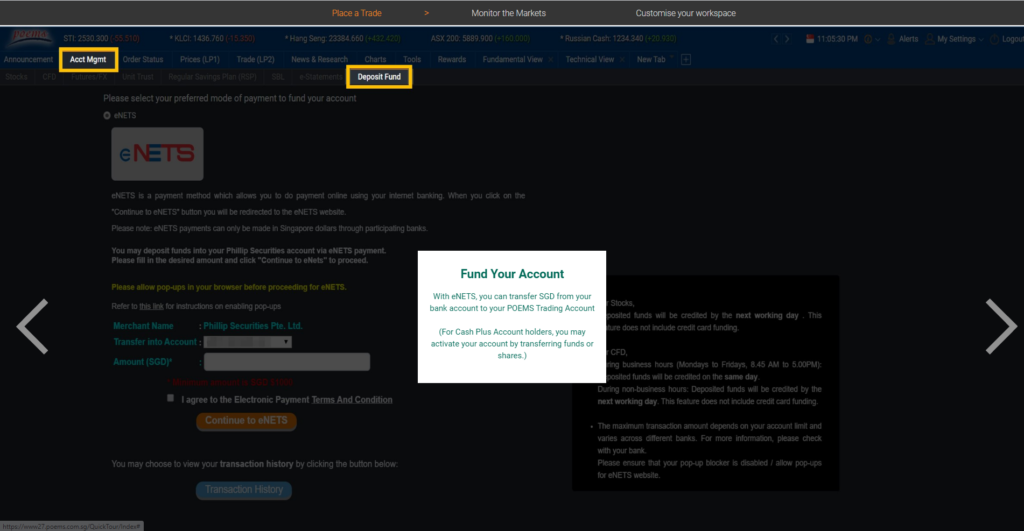 It next brings you to the bank account information page where you can link your CPF/SRS investment accounts to your POEMS account.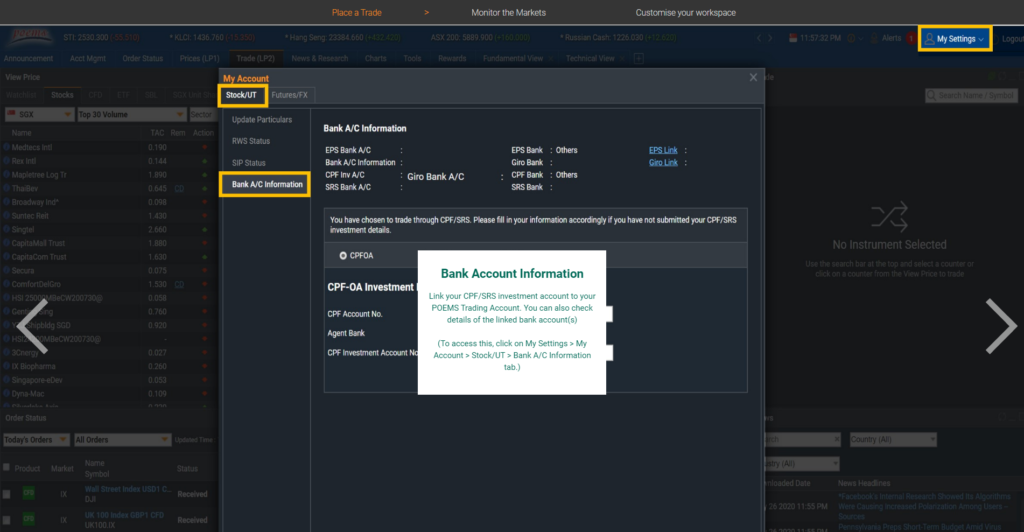 Moving on, you can explore all the products on POEMS, such as stocks, CFDs, ETFs, futures and bonds.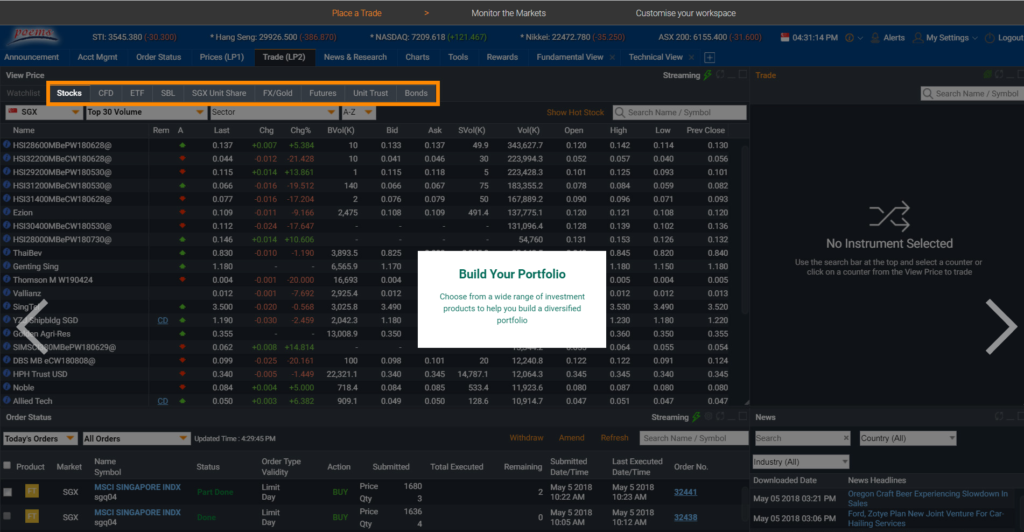 The tour also introduces you to search and sorting functions to help you nail down specific stocks.
To trade, you can just right-click the stocks you have identified.
You can create up to 10 different watchlists with POEMS.
Once added, you can view your watchlists and rename them whichever way you like.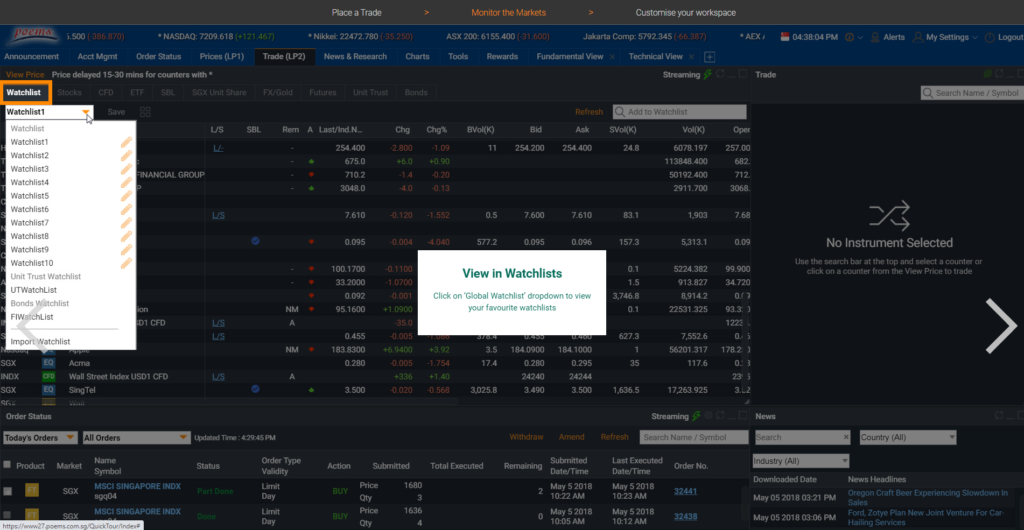 I have to admit that the tour is really well-done. It helps new users find their way about the platform and brings them to the crucial pages that they are likely to use, like the deposit funds page or how to start trading.
User-Friendly Platform
Once you've completed your tour, you will be welcomed by the default dashboard. The dashboard is pretty straightforward and very user-friendly. At one look, you can have all the information you need, such as news, order status and an overview of the market.
Key Platform Features
Knowing and fully harnessing the key features of the platform can make a difference in your investing experience, whether it is seamless or frustrating, profitable or could-have-been-better. Let's take a quick dive into POEMS's platform because it has got quite a few interesting features.
Order Types
Starting off with one of the most important features of any brokerage platform are the types of orders you can make. POEMS offers not only the usual Limit Order but also Stop Limit Order and Limit If Touched Order, which are more uncommon.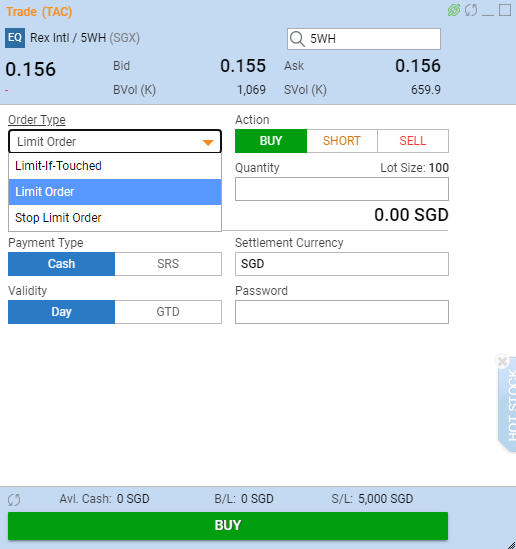 A Stop Limit Order is an order to buy or sell a stock once the price of the stock reaches your specified price, known as the Trigger Price. Once the Trigger Price is reached, a Stop Limit Order becomes a Limit Order that will be executed at your specified price (or better).
A Limit If Touched (LIT) Order is an order to buy or sell a stock at a specified price or better, below or above the market price. This order is held in the trading system until the Trigger Price is breached.
A LIT Order is similar to a Stop Limit Order, except that a LIT sell order is placed above the current market price while a Stop Limit sell order is placed below.
You can also short a stock with POEMS' CFDs, which are Contracts for Difference. With CFDs, investors who short-sell a stock need not own or borrow any of the shares before they short-sell.
ChartWhiz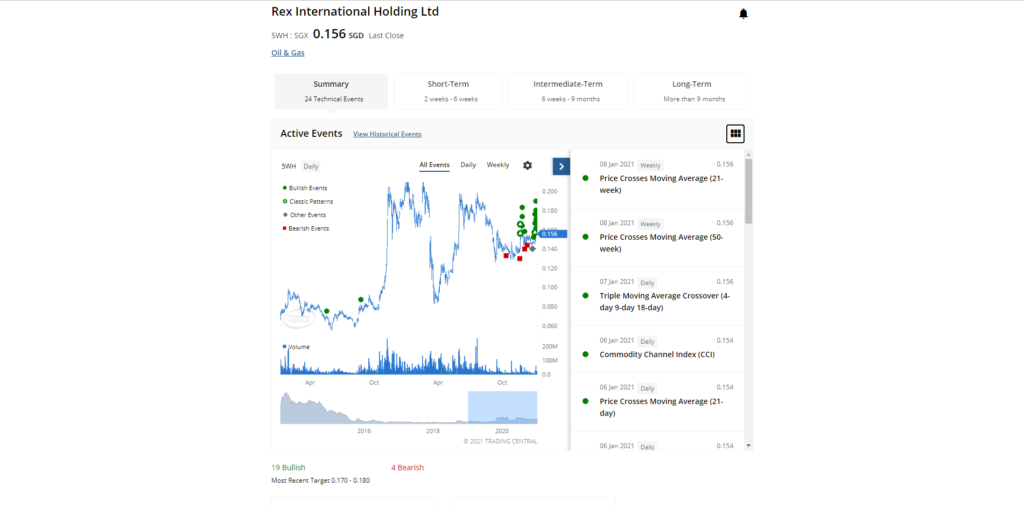 ChartWhiz is pretty unique to POEMS. It is unlike anything I've seen before.
The feature simplifies technical analysis of any stock by scanning out key technical-analysis indicators such as moving average crossovers or oversold/overbought RSI. The platform even gives an overview of the number of bullish and bearish signals that can be found.
Besides that, ChartWhiz's technical analysis provides support and resistance levels that can be found based on 500 candlestick bars as well as possible take profit and stop loss prices.
This is definitely unique and a must-have for investors who want to use a blend of technical and fundamental analysis to help them invest. It speeds up the analysis process by giving you all the signals that can be found on the chart so you don't have to go find them yourself.
Stock Analytics
Next up is Stock Analytics.
This is a tool for investors to do their fundamental analysis. On this page, you will see a business summary, company links and basic stock information. You can also find the Phillip Securities research team's analysis of the stocks, with their target prices and recommendations. Do note that not all counters are covered by the research team. These are indicated by N/A, as can be seen below.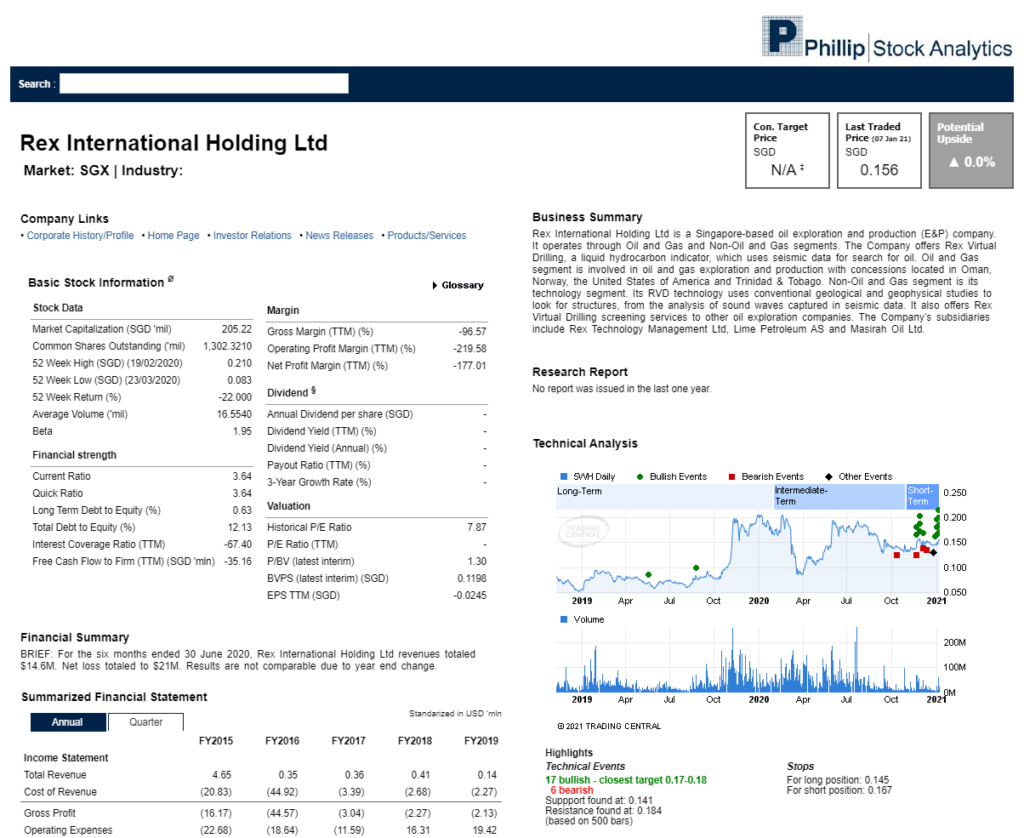 The page gives you a summary of the company's annual and quarterly financial statements. Information includes the income statement, balance sheet, cash flow statement and other data such as dividends per share and earnings per share.
On the right, you can find the ChartWhiz technical analysis for that stock as well as comparisons with the company's industry peers. There is also a recommendation section that aggregates all the recommendations made by research analysts. This gives a consensus target price and consensus recommendations. Lastly, you can find information on the management team of the company.
Recurring Plan
The Recurring Plan feature allows you to place repeat buy orders on any stock. Investors can set the frequency, start and end dates of their future trades, the quantity of shares to buy and their payment type.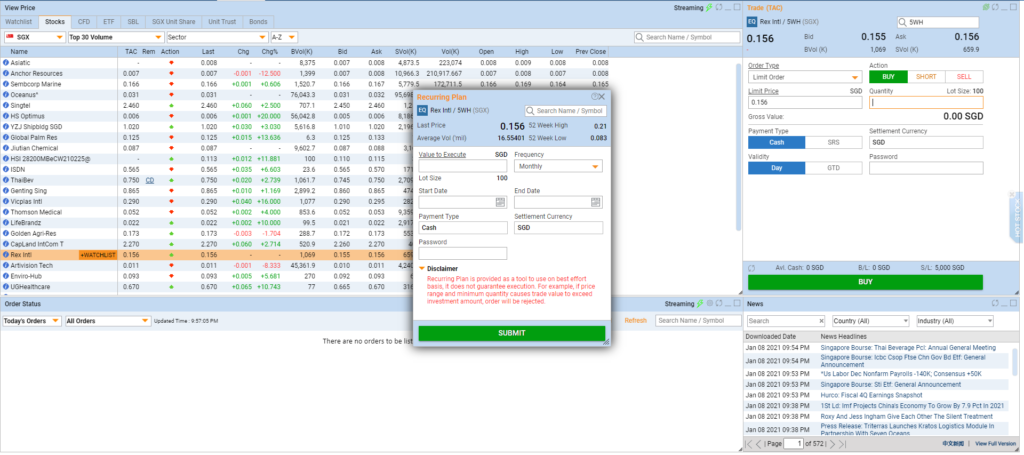 This feature is extremely useful for investors who adopt dollar cost averaging for long-term investments. Investors can set their orders and take the emotional factor out of their investment decisions. By focusing on consistent investments, they stand to lower their average cost of purchase over time and build up wealth. Dollar cost averaging is thus particularly attractive for new investors starting out.
Customer Support
When choosing a broker, most of us would appreciate one who can give very prompt and helpful support and help resolve all our trading problems. POEMS has a few avenues of customer support for investors.
You can visit any of its physical branches sprinkled across Singapore, where brokers are available to help you on the spot.
Importantly, when you open a POEMS account, you will have your designated broker. You can simply contact him or her or call the customer service hotline at 6531 1555 from 8.45 am to 12 am, Monday to Friday.
Chatbot
On top of that, you can talk to the 24/7 Chatbot on the POEMS website. The Chatbot can answer basic questions like your account type, charges, payments and the overall platform.
Final Thoughts
Admittedly, I started using POEMS not too long ago. As such, I have not accessed all its features. But I am definitely looking forward to using the platform more. One of the things that drew me to POEMS is its huge selection of products that allows me to invest across financial instruments and asset classes through a single brokerage account.
The SBL feature on POEMS, in particular, allows long-term investors like me to increase my returns through an additional income stream. Speaking of which, I might just pen a second article on POEMS' SBL facility and my overall experience with the platform after using it for another couple of months.
Don't have a POEMS account yet? You can open one here.
As always, you can take a look at my portfolio updates to see my current positions! Also, use my referral code for an extended 3 months of premium access to StocksCafe! P.S. I'm running a telegram chat group for you guys to share and discuss investment-related topics so come on in! I'll be there too! You can join the chat here: https://t.me/joinchat/D4iHeEVapnGC1lWcFEupVw